For construction projects or home renovations of all sizes, Lind Lumber is the trusted destination for building supplies in Dorchester, Aylmer and the surrounding area. Contractors and do-it-yourselfers come to Lind Lumber for quality name brands and experienced staff who can help with specifying and estimating your construction, home renovation and outdoor living projects.
Lind Lumber always has a wide selection of dimensional lumber, engineered and composite wood, trusses and milling in stock. You can rely on our fast, dependable delivery to keep your construction project on track. Want to know more about sustainable building? Our team also has up-to-date expertise on current trends, energy-efficient products, waste reduction and green building supplies made from renewable resources.
Need an estimate? Request a quote or contact us to speak with one of our lumber experts now.
Dimensional Lumber
We carry various grades of dimensional, pressure treated and untreated lumber (ranging in size from 2x4 to 2x12), posts (4x4 and 6x6) and species (cedar, pine and spruce). We also have strapping in 2x2, 1x4 and 1x6.
Plywood & OSB
Some of our stock and product we can access includes pine, oak and birch cupboard stock (veneer particle core) in various thicknesses, spruce, Good One Side (G1S) fir, marine-grade pressure treated and aspenite (Chip Board).
Pressure Treated Lumber
Pressure treating helps wood withstand the elements and ward off insects and fungal decay. We carry pressure treated lumber (sizes from 2x4 to 2x12), posts (4x4 and 6x6), decking, lattice, fence boards, stair stringers, spindles, balusters and mini ties (3x5).
→ More about decks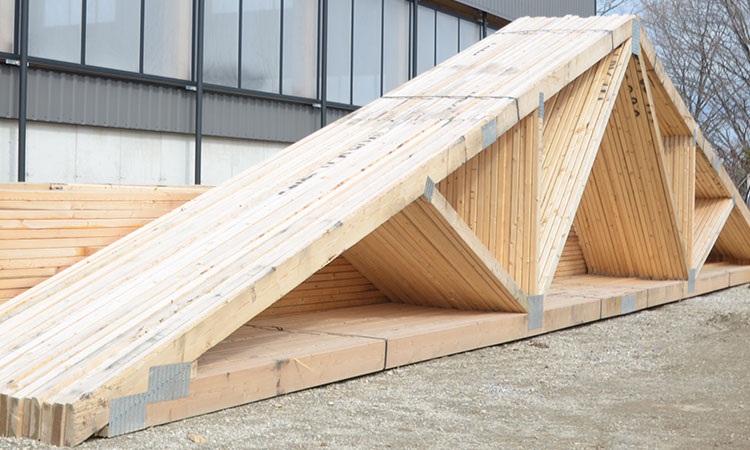 Engineered Wood Products (EWP)
We supply engineered floor systems and pre-engineered beams for supporting roof and floor loads. We can handle your simple LVL headers to your complex roof and floor systems. We can even help you with designs for floor and roof trusses for residential, commercial and agricultural projects.
---